Premier Christy Clark unveiled a new loan program yesterday to help first-time home buyers come up with their down payment.

The BC Home Owner Mortgage and Equity (HOME) Partnership program will offer qualifying home buyers loans of up to $37,500 with a 25-year term mortgage. No payments are required to be made and interest will not accrue until the sixth year of the term.

The province will begin accepting applications on January 16, 2017.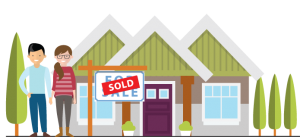 To qualify, buyers must:
• Be a first-time buyer who has not owned an interest in a residence anywhere in the world at any time
• Use the property as their principal residence for the first five years
• Obtain a high-ratio, insured first mortgage for at least 80% of the purchase price
• Have a combined gross household income of all individuals on title not exceeding $150,000
•Have saved a down payment amount at least equal to the loan amount
• Be a Canadian citizen or permanent resident for at least five years
• Have resided in BC for at least one year preceding the date of the application.
The loans will be due in full if the buyer defaults on a payment, ceases to use the home as a principle residence, resells, or transfers the home.
Key facts:
• The loans will match a home buyer's contribution to a down payment up to 5% of the home's purchase price
• The maximum purchase price to qualify for a loan is $750,000 (excluding taxes and fees)
• After five years, buyer(s) can either repay their loan or enter into monthly payments at current interest rates
• Loans through the program are due over the remaining 20 years
• You can make extra payments or repay it in full anytime without a penalty
Applications for the BC Home Partnership open January 16, 2017.
The province estimates this initiative will help at least 42,000 buyers or households province-wide over the next three years. About half of these buyers will be in the Lower Mainland, according to Pastrick.
Click here for more information.